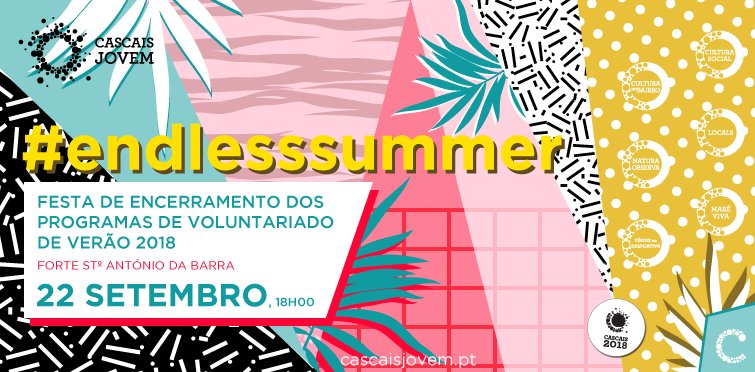 On September 22, at 6:00 p.m., the end of another edition of the Cascais Jovem Summer Volunteer program will be celebrated at the fort of St. António da Barra.

240,937 were the volunteer hours that the 2000 or so young people totaled in the programs Maré Viva, Natura Observa, Cultura Social, Locals, Cultura no Bairro e Férias na Desportiva.
The presentation will be by Diana Brites a.k.a. Maria from the Cascais 2018 video, which you have already seen in one of the more than 100 events we promote in the best European Youth Capital ever! In addition to the long-awaited awards ceremony for young people who have excelled in their programs during the summer, enjoy an alcohol-free cocktail with Sea Angels, and celebrate #endlesssumer with DJ Lyl in a fantastic spot!

In the closing phase, the 2018 edition of the Volunteer Programs and Summer Free Time shows a significant increase in young participants and volunteer hours held in relation to previous editions.
In this edition, Locals XS was created for 12 to 14 year olds who accompanied the Locals' senior teams and were able to show the charms of the Village of Cascais to the 70 000 visitors we received this summer.
These are leisure time programs for young residents or students in schools in the municipality of Cascais between the ages of 12 and 30, which aim to promote a healthy occupation of their free time, mobilizing them for a service to the community , fostering the community spirit, mutual aid and solidarity, promoting and contributing to the development of their social and personal skills.