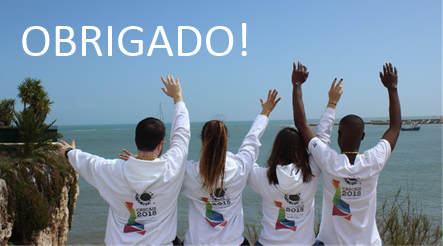 The Cascais Town Hall on International Volunteer Day, December 5, thanks all the young people who volunteered in a very special year, in which Cascais is the European Capital of Youth!

Around 2000 young people totaled 240,937 volunteer hours in the Summer Volunteer programs, which also involved 133 partner organizations!
Throughout the year there are 1,673 volunteers enrolled in annual volunteer grants with registrations always open and have about 15,000 hours of volunteering.
The 2018 edition of the Volunteer and Free Summer Programs revealed this year a significant increase of young participants and volunteer hours held in relation to previous editions. In addition to the usual programs Locals, Maré Viva, Férias na Desportivo , Cultura Social, Natura Observa and Cultura no Bairro, and in the face of the growing demand of the youngest, Locals XS was created that joins the Marézinhas do Futuro for youngsters from 12 to 14 years.

These programs also include Maré Viva which involved 697 young volunteers who provided 1,516 first aid on the beaches of the county and collected 344,000 beatas! The Cascais Acessível - Praia para Todos project was present on 6 beaches and provided 350 users with reduced mobility with 1550 baths. This project works in partnership with 41 institutions.
Given the success of the Locals program, which this summer introduced the charms of the Village of Cascais to more than 75,000 visitors, the Locals 365 version was born in January 2019 to contribute

365 days a year for the general welfare and safety of the users of the rail transport of the county and to provide general information to the visitor of the Village of Cascais, publicizing the equipment and activities of the Municipal Council of Cascais!
These are leisure time programs for young residents or students in educational establishments in the municipality of Cascais between the ages of 12 and 30. They promote a healthy occupation of their free time, mobilizing them for a service to the community, fostering community spirit, mutual aid and solidarity, promoting and contributing also to the development of their social and personal skills.
Throughout the year young people from Castile have the opportunity to participate in various volunteer programs, such as Cascais Sports Volunteer, Promove-Te and Cascais Volunteers 2018, which contribute to their active participation in community life and the development of social skills !
Thank you to all those who have already been part of this programs and are part of the initiatives of active participation and citizenship in our county. The future begins here.