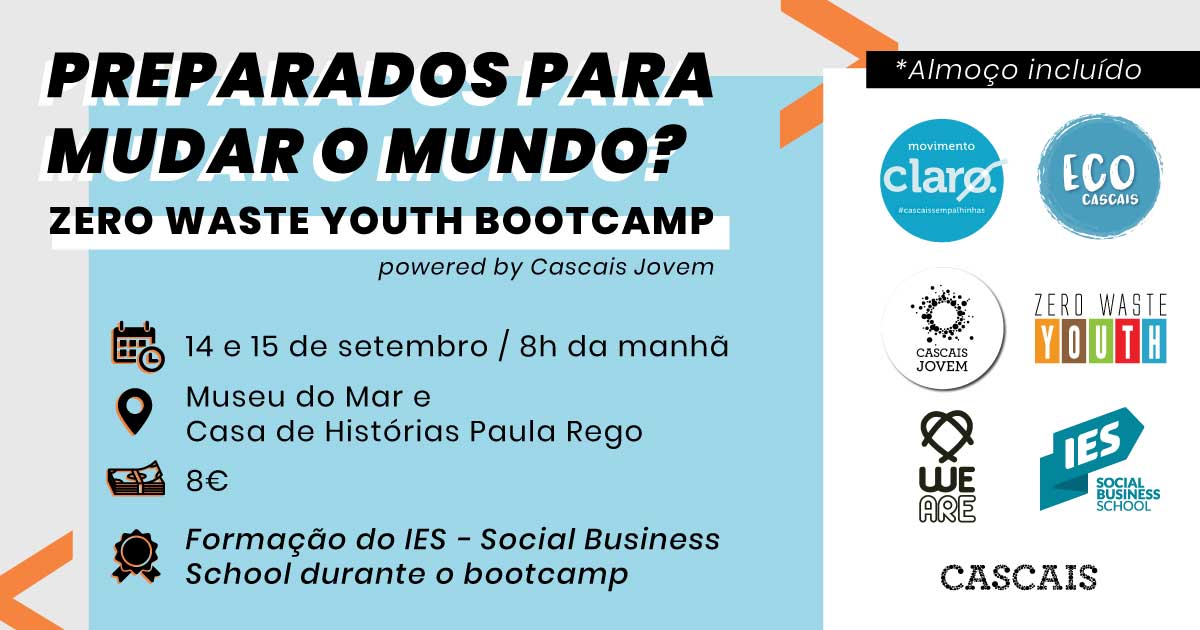 The IES-Social Bussiness School, Zero Waste, Cascais Jovem and Youth Association Movimento Claro joined forces to promote a Bootcamp on zero waste practices in the daily lives of the population.
The Zero Waste Bootcamp powered by Cascais Jovem supported by IES - Business School, a business school certified by INSEAD, is already taking place on 14th and 15th September 2019 and is an expert in training impact agents and very focused on social entrepreneurship and innovation.

Over the course of the two days, dozens of young people will have the opportunity to work with specialised and highly competent trainers to help create solutions and solve the various challenges. In addition to the skills they will acquire, they can count on a very beneficial networking network.
Bootcamp will be opened with a power talk by Councillor Nuno Piteira Lopes (to be confirmed).
Work will also be carried out by groups in order to launch real challenges - 4 entities will be selected in Cascais that want to adopt a Zero Waste philosophy. On Sunday, at the end of the event, (at 7pm) the projects will be presented to a specialized jury composed by Eunice Maia (Maria Granel), Rodrigo Sabatini, Ana Masielo (Hero to 0) and Environmental Councillor of CMC Joana Balsemão.
Registration is open until 28th August through the EcoCascais website, and costs 8€ - including training and lunch on both days.
Saturday is between 8 am and 7 pm, Sunday is between 9 am and 7 pm.