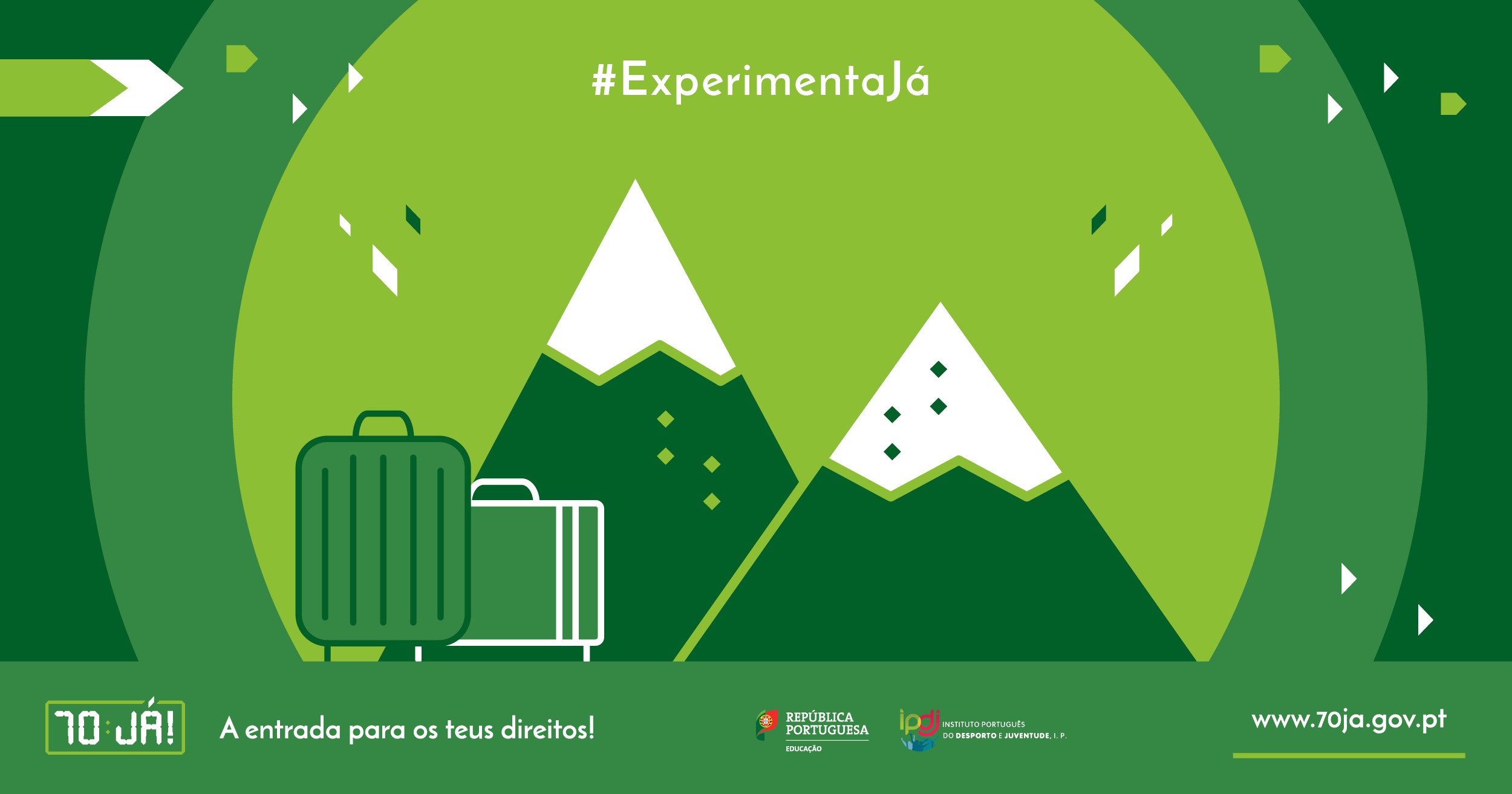 YOU ALSO HAVE SPECIAL PROTECTION IN THE USE OF FREE TIME
So that you can enjoy the best opportunities, Article 70 facilitates your access to experiences that contribute to your:
Recreation;
Welfare;
Personal development.

WHY?
Article 70 stipulates as a priority of youth policies the development of the personality of young people
The diversification of your experiences helps to broaden your horizons, to know more about you, about other people and the world.
By relating to other cultures, by accessing the cultural offer in your areas of interest and by enjoying opportunities to try different occupations or functions, as well as carrying out a project and performing various tasks, you can contribute to your well-being but also discover new avenues that you would like to know in the future.
During your youth, you have specific barriers to these experiences that, as an adult, will already be outdated. So as a young person, recognizing that your independence and autonomy are still being built and that often you do not have autonomous income, the state gives you extra support to overcome these difficulties.

HOW?
Assuming that, in youth, much of the time is spent in school and, later, at work, the state enhances the enjoyment of your free time. You can also enjoy discounts or free access to various services or goods, allowing you to better manage your autonomy and income.
Use of leisure time
There are many ways to boost leisure time, so you can try out different activities in different areas! Know some:
Mobility and the exchange of young people are the main goals of this program, which aims to bring together, from July to September, young people from Portugal with young people from 18 to 30 years of age, from other cultures, encouraging the exchange of experiences and knowledge of new sociocultural realities through the execution of volunteer projects and the development of local communities in areas of culture, environment, historical and cultural heritage, among others.
Holiday on the Move Program:

The Holiday in Motion Program was created with the purpose of offering you new opportunities to take advantage of the free time involved in creating projects that are useful to the community, in areas such as the environment, culture, historical and cultural heritage and others in designated activities of holiday camps.
The Free Time Occupation Program was created with the idea of ​​occupying your free time, providing you with experiences in the context of non-formal learning or in an active work context, in order to guarantee you the opportunity to participate in projects for the community and so that you can develop personal, social skills and acquire new knowledge.
The OTL Program has two modalities: the short duration modality and the long duration modality. You can choose to develop a project in one of the following areas: environment and / or civil protection, support for the elderly and / or child support, culture and / or heritage, fight against social exclusion, health, associations, sports, human rights, law animals, citizenship and others of recognized interest.
Easy access to goods and services

So you do not have to ask your parents for that much money or you can manage your income better when you start to work, you'll find a lot of discounts on goods and services, public or private. Perhaps you were not born yet when the best-known initiative in this field arose: the E.Y.C.
It was released in 1986, having created a number of advantages in several areas of interest. It is a National and European initiative that guarantees you discounts, exemptions or exclusive services provided by public and private companies.
Discounts on cinemas, music festivals, trips, youth hostels, sporting events, museums and shops are some of the great advantages that the EYC Young Card offers you.
Traveling at leisure or in the ambit of your activities can be expensive when you are young and financially dependent on others or when there are other priorities in the budget.
The State thus facilitates your mobility, through extra support in accommodation and transportation.
If you are between 12 and 30 years, part to the discovery of Portugal with the intra-rail. Explore the travel arrangements that will allow you to venture across the country, including stays at Youth Hostels.

There are, in the country, several Youth Hostels that you can get to know and experience. In addition to quality accommodation at low cost, these spaces have aind