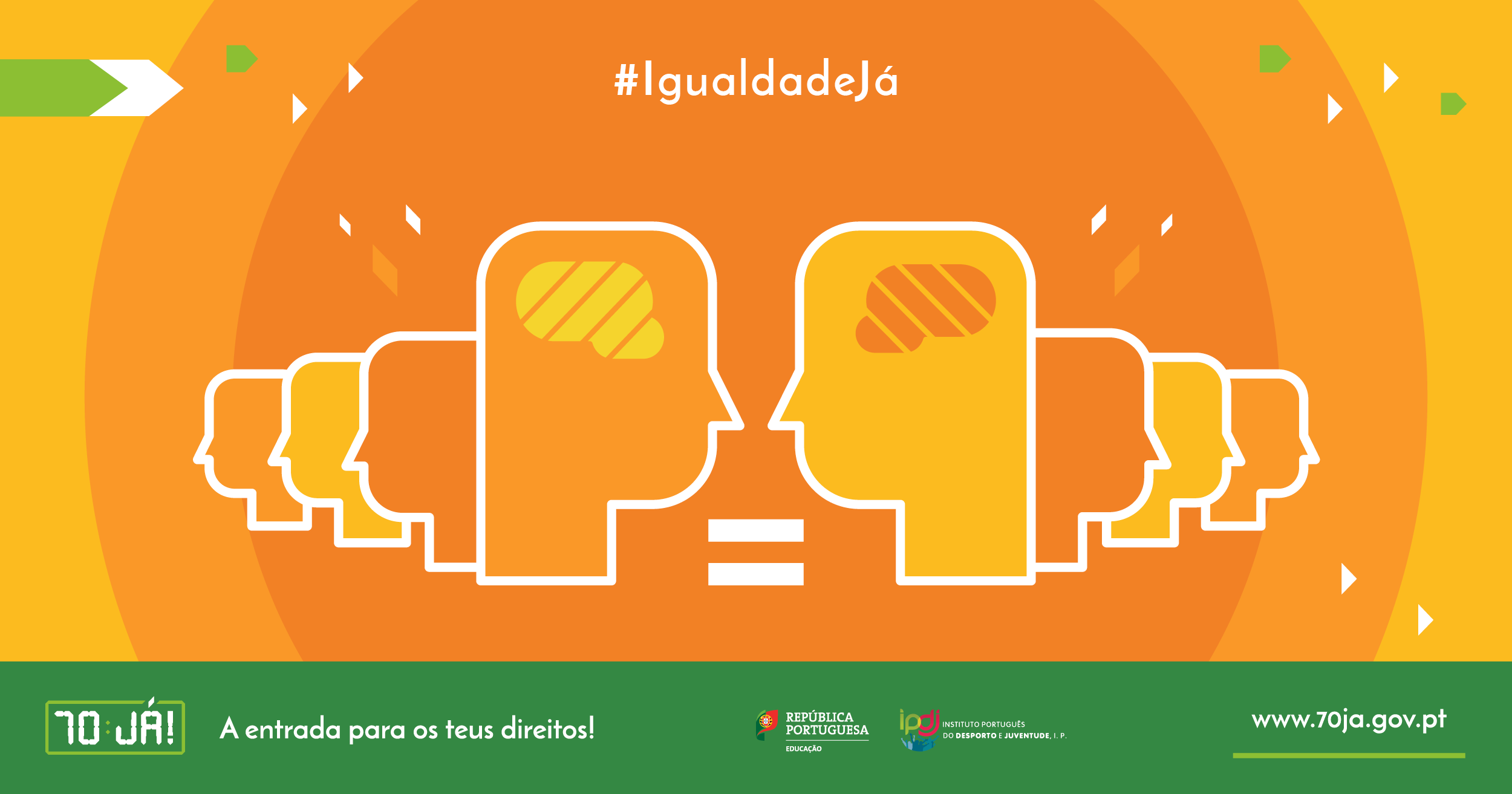 In Portugal, equality is safeguarded by Article 13 of the Constitution of the Portuguese Republic, also known as Equality Principle.
The Equality Principle is fundamental to life in society. This principle guarantees that all people enjoy their rights and freedoms, ensuring access to equal opportunities and equal protection before the law, irrespective of their gender, race, ethnicity, presence of disability, territory of origin, language, religion , political or ideological convictions, education, economic situation, social status, sexual orientation or gender identity. This is the power of Article 13 in Article 70.
On the other hand, when we promote equality policies, it is important to realize that, for example, within the "women" social group, young women have specific needs, aspirations and perspectives. This is the power of Article 70 in Article 13. Together, they form a superpower!
Why?
When we speak of "youth", we are aware that there is a plurality of youths! Age intertwines with other dimensions of identity, since young people are part of social groups common to younger people, but with whom they share sex, religion, ethnicity, etc.
It is therefore important to recognize that young people have specific needs not only because of their youth but also in other dimensions. Particular support for the protection of the rights of young women, homosexuals, bisexuals, trans, intersex, afrodescendants, gypsies, migrants in situations of poverty and / or social exclusion is to contribute to the transition from childhood to adulthood. everyone is free from discrimination and lived in equality.
How?
For now, it matters that you know that there are entities that can support you in situations of racism, xenophobia, discrimination based on sex, sexual orientation, gender identity, domestic violence, etc.
In Portugal, you can count on various bodies and entities whose mission is to promote and preserve the values of equality, contributing to the balance of citizenship and social justice.
On the other hand, you also have a role to play, treating everyone in a fair and dignified manner and being an ambassador for equality, diversity, inclusion and human rights.
Finally, take note: As a young person, there are various initiatives and programs that help you overcome inequality or gain tools to fight. You know them!
Equality in Education
In order for all people to continue their studies in Higher Education, the State ensures an inclusive system of access to higher education, promoting specific access conditions, such as:
• Special quota in the national access contest for:
Candidates from the Autonomous Region of the Azores and Madeira
the Portuguese and Family Emigrant Candidates who reside with them
o Candidates with physical or sensory disabilities
• Special schemes for access to higher education, especially for natural persons and children of East Timorese.
Equality in holidays and mobility
• Borderless Program- It is designed to provide a holiday opportunity for children and young people in homes and temporary shelters for public and private institutions in foster families, followed up by the Commissions for the Protection of Children and Young People in other programs, as well as the beneficiaries of Social Integration Income.
• Mobility and Integration for Young Descendants of Immigrants - Intended for young descendants of immigrants who have acquired or will acquire Portuguese nationality.
Equity in Participation
• More Leaders - Young Cigan @ s- This program is aimed at young Roma between the ages of 18 and 35, aiming to promote their active participation in the civic and associative level.
• Youth Ideas Contest - Mundar: Change your World! - It is aimed at young people between 16 and 30 years of age and gives the opportunity to present ideas, create projects and organize actions that promote their empowerment and autonomy .
Gender Equality and Non-violence
• Flirt with Fair play
• III Program of Action for the Prevention and Elimination of Female Genital Mutilation 2014-2107
Entities and Public Policies that you should know
• High Commissariat for migrations - ACM
• Commission for Equality and Against Racial Discrimination - CICDR
• Commission for Citizenship and Gender Equality - IGC